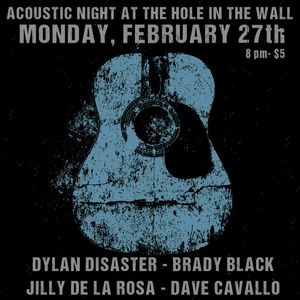 February 24th, 2023
STUFF!
I've got a solo show coming up this Monday, February 27th! At The Hole In The Wall. It's been a minute since I've done a solo gig, I've gotten pretty used to having Rev with me, but I'm looking forward to doing it on my own! Well, not entirely on my own. Brady Black will playing too, as well as Jilly De La Rosa, and Dave Cavallo from Dropped Out! It'll be a chill ass Monday night, come hang with us!
I've also made a contribution to the "Bridged: Volume 2" an acoustic comp put together by our friends, The Bourcy Leos! I did an acoustic version of 'South Long Island' and the comp will be available on March 1st! I'll have a link available soon.
The Revelry and I have an acoustic show at the end of April at Hole In The Wall as well, with my friend Sammy Kay, from Jersey and Chad Price, I'll have more details on that later on.
Lastly, thanks to all who came out to our show on February 11th, we had a stellar time. Our friend, Rocco scored some sweet photos. Check em' out.
Bye!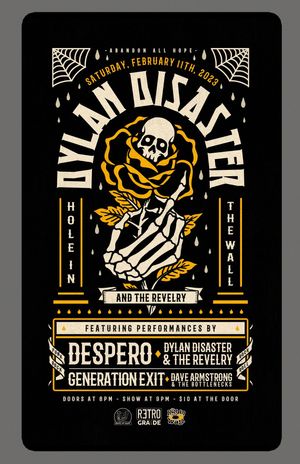 February 5th, 2023
HAPPY NEW YEAR!
Hi! Thanks for stopping by! Apologies for slacking on my updates, I realize I missed so many updates.

Let's see. We played a bad ass New Years Eve show at Kick Butt with all of the homies, I've got some live footage to upload.

I've recently submitted my contribution to an acoustic comp that is being presented by my friends The Bourcy Leos. I tracked an acoustic version of my song South Long Island, I'm happy with it.

I wrote a Christmas song and shared it on the YouTube. See - - - > 

I also added a few live clips from NYE here.

Our first show of the year is next week, February 11th! With our good friends Despero, Dave Armstrong and The Bottlenecks and a rad new band consisting of former Nowherebound members called Generation Exit! -->

I add my past blog posts to the bottom of the page if anyone ever needs to see that.

Lastly, we sadly lost one of our own this past January. Austin played an integral part in the creation of 'Remission' as well as shaping the sound of The Revelry and we were sad to hear of his passing. Take care of yourselves, friends, and each other so we can all last a little longer on this planet.

I love you. I'll be back for more.